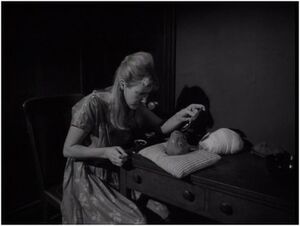 Mary X (Charlotte Stewart) is Henry's estranged girlfriend and later wife. Before moving in with Henry, she lived with her parents and catatonic grandmother.
Plot Summary
Edit
Early in the movie, The Beautiful Girl Across the Hall informs Henry that he has been invited over to the X's for dinner. While at the X's, Henry is forced into an extremely awkward conversation with Mary and her mother and witnesses an odd spasm of Mary's. At dinner, Mrs. X confronts Henry about Mary's odd childbirth, but Mary rebuts that the doctors are not even sure if the offspring is a child. Regardless, the two are married and the Baby and Mary move in with Henry.
Both individuals are obviously miserable and their bedding arrangement. Mary, disgusted with her child and annoyed by it's incessant screaming, temporarily leaves Henry alone with it. In her final appearance, she is seen squirming in bed, somehow producing the very same flagellate creatures seen at the beginning of the movie and being stomped on by the Lady in the Radiator.
Symbolism
Edit
Because Lynch never gave any concrete answers as to the meaning behind anything in the film, much of the meaning behind her character is up to interpretation. Many agree however, that Mary symbolizes Henry's inadequate life, with a hysterical wife who doesn't love him.
Community content is available under
CC-BY-SA
unless otherwise noted.